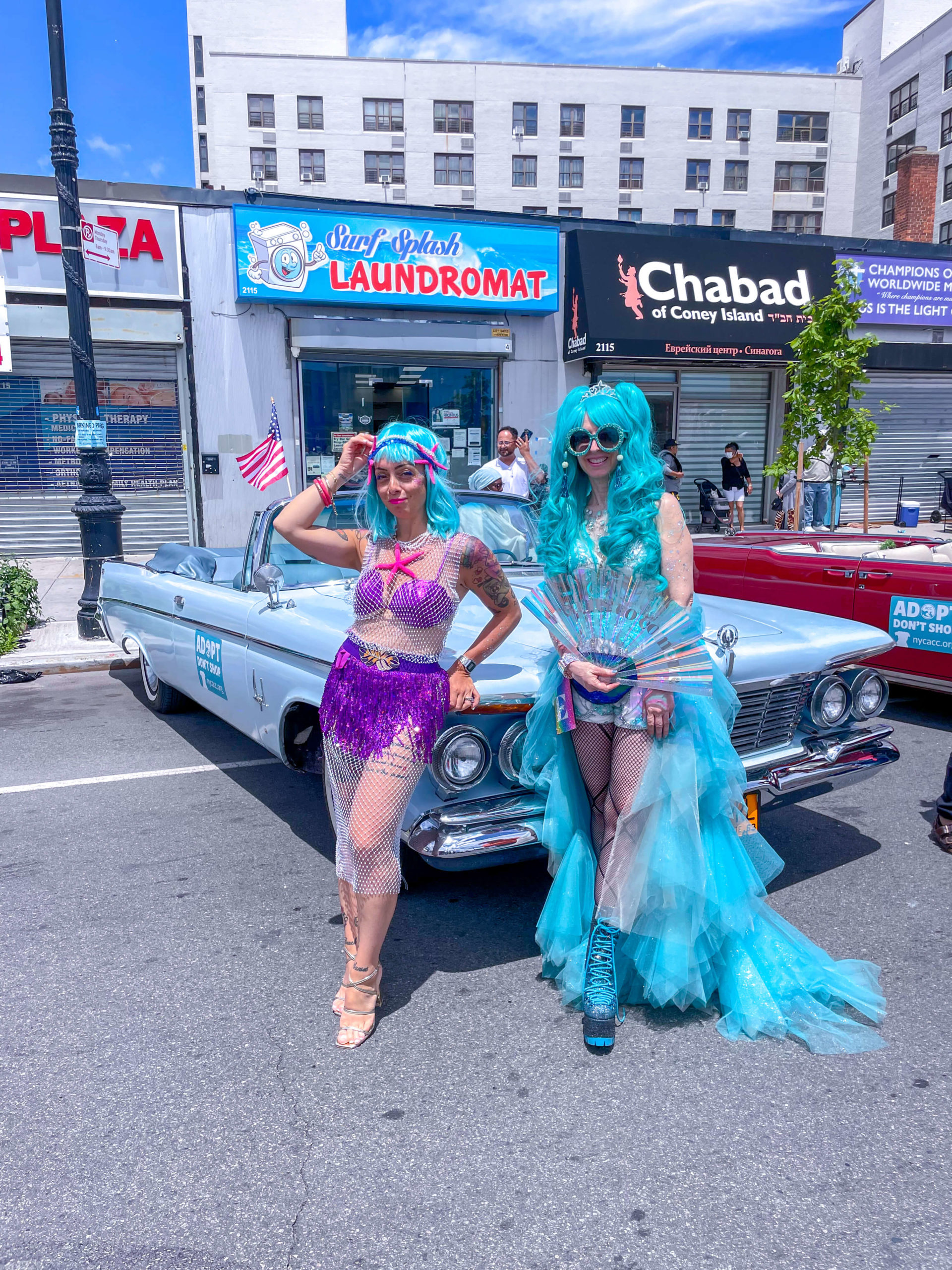 6 July 2022
40th annual Mermaid Parade in Coney Island
An amazing and creative energy was spotted in Coney Island on a hot summer day last June 18.
A great return for one of the most popular parades in New York City, the Mermaid Parade in Coney Island  celebrates the beginning of the summer. After a stop in 2020 and 2021 due to Covid-19, the artistic and party spirit with the over 3,000 people from all five districts was skyrocketing.
This special edition has allowed the community to celebrate the 40th anniversary of ancient marine mythological characters. Mermaids and sailors, merfolk and pirates are just some of the glittering costumes handcrafted by the participants. Dancers and musicians, along with street vendors and vintage car enthusiasts completed the most colorful summer parades in New York.
The Mermaid Parade started at 1pm with the show of vintage cars in the midst of cheering spectators on Surf Avenue on Saturday 18 June 2022. New York City 4 All was honored to be part of it also took part it aboard a magnificent sea-blue Chrysler Imperial.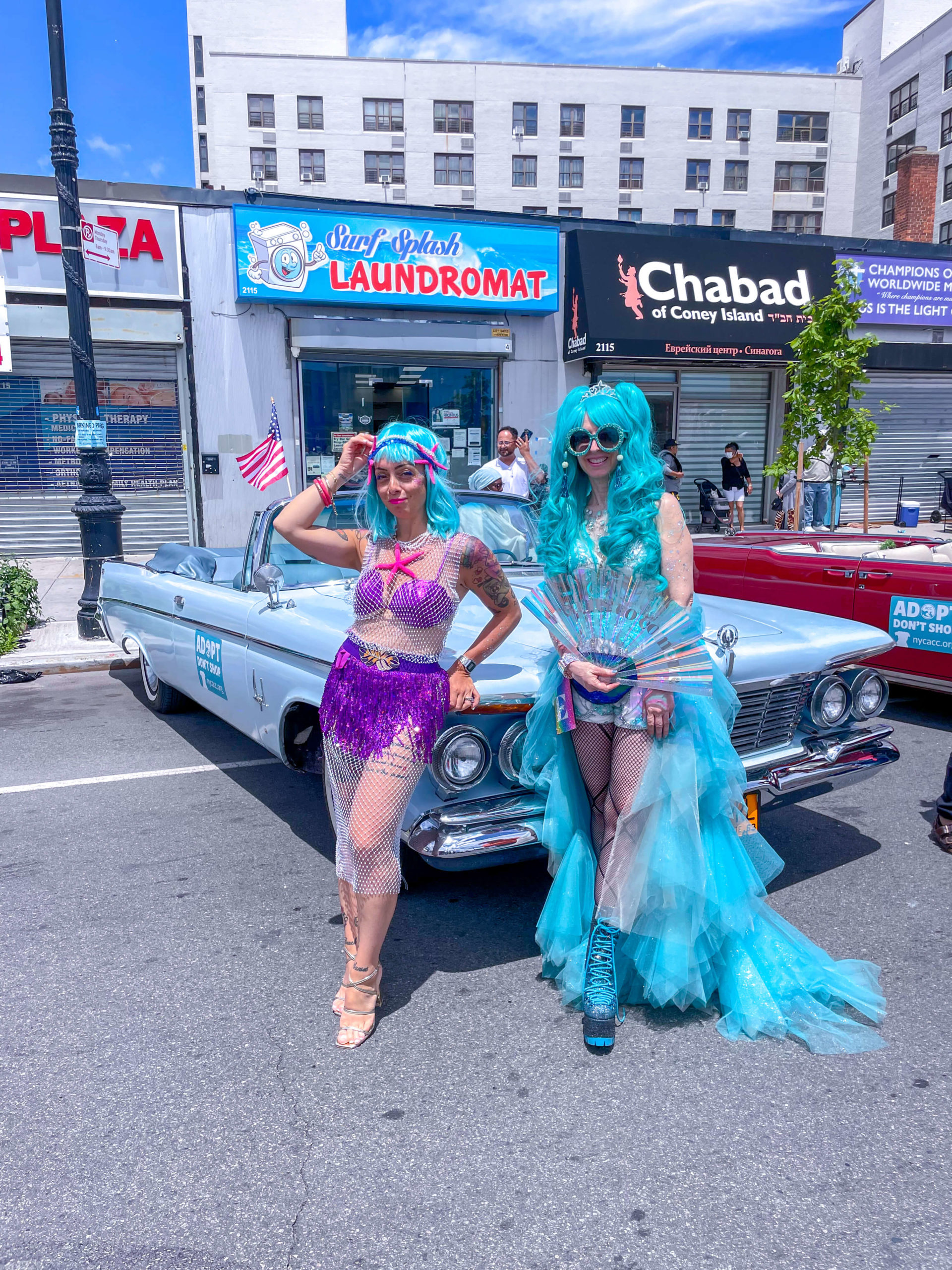 A dazzling smile, starfish and turquoise hair like a real mermaid distinguished the outfit for the occasion with a barbie outfit mermaid wearing light blue.
View this post on Instagram
Enjoy a recap video!
40th annual Mermaid Parade in Coney Island: the vibe of the event
Born to build self-esteem in a neighborhood often labeled as "place of fun," it allows artistic New Yorkers to find self-expression in public. The mission is to enhance Coney Island as a neighbor preserving the history and art, often set aside to give exposure to other areas.
A party atmosphere that carries on the tradition of events similar to the celebration of Carnival held in the first half of the 20th century. Like New Orleans' most glitzy Mardi Gras events, the Coney Island Mermaid Parade features bold and quirky costumes.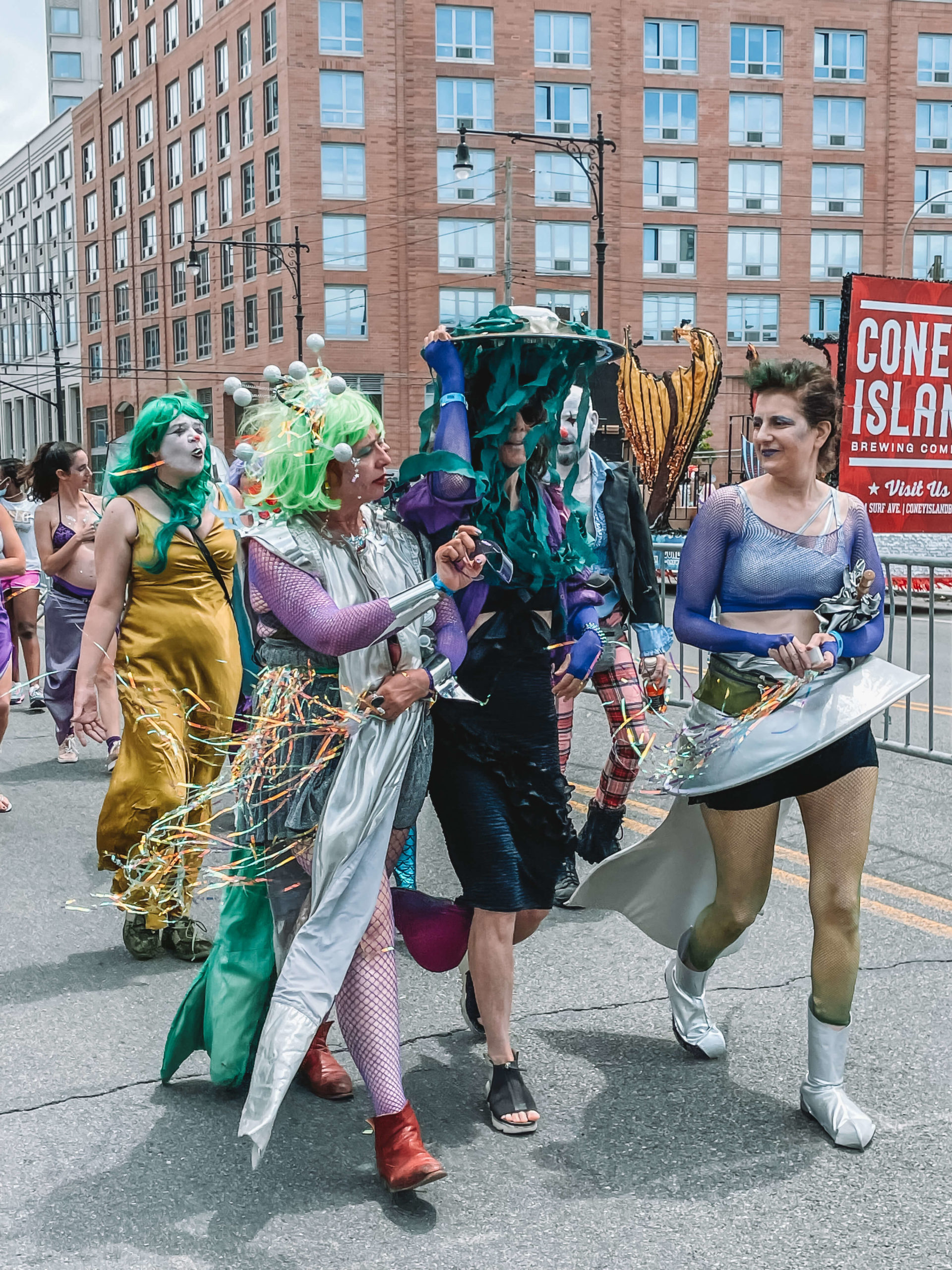 A parade in the midst of parties and events in New York without ethnic, religious or commercial purposes, created by the non-profit organization Coney Island USA. The Mermaid Parade also features local celebrities who each year play the coveted roles of King Neptune and Queen Mermaid. This year the honor went to transgender actor and activist Mx Justin Vivian Bond and former New York health commissioner, Dave A. Chokshi.
Beautiful allegorical floats followed, such as a pirate ship built on a vintage tractor, the pride of this splendid community. A parade that is about inclusion, "a community where you can find your fellow monsters," said one participant. A community able to proudly show all the beauty of New York on every occasion.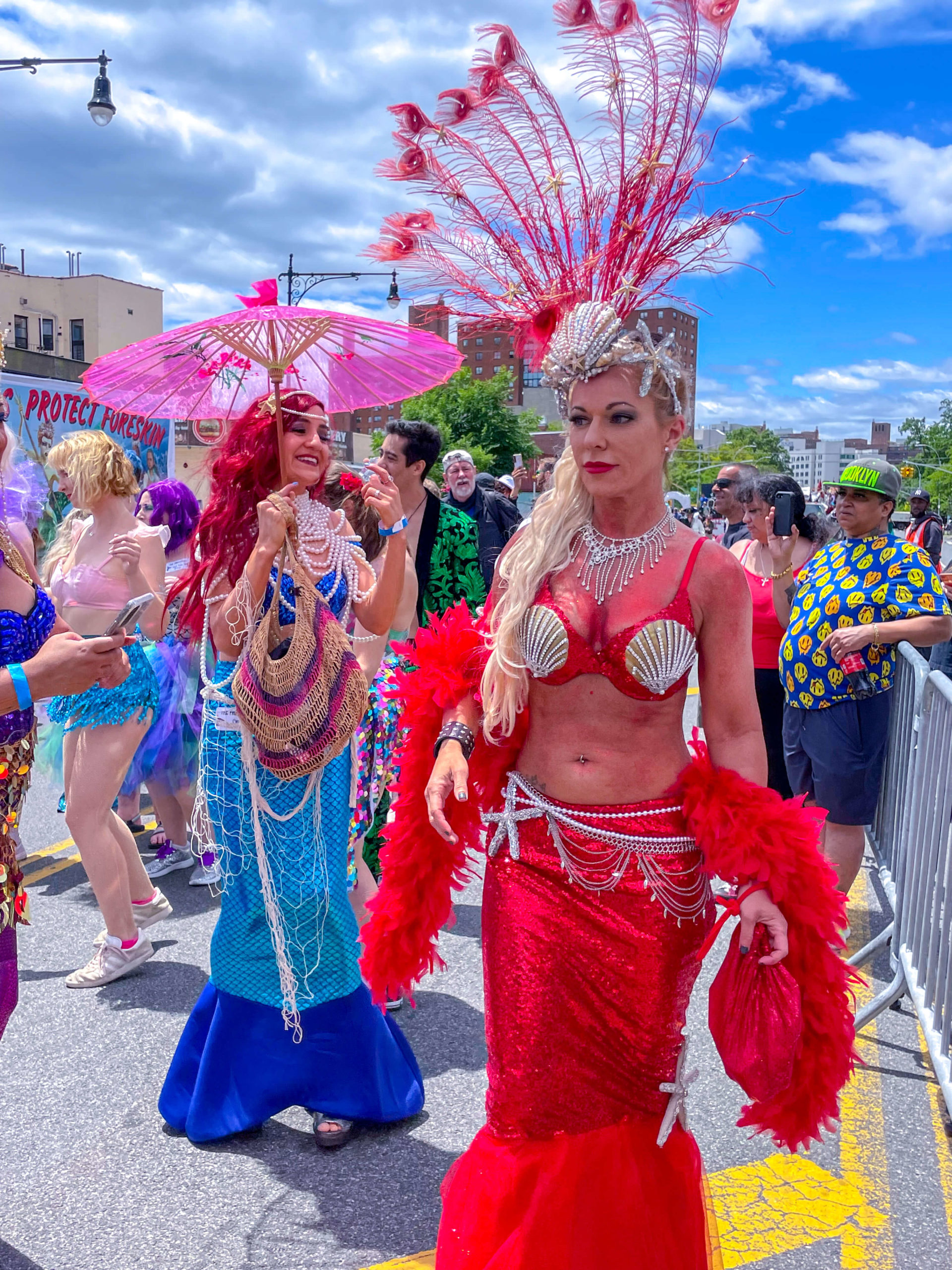 40th annual Mermaid Parade in Coney Island: the costumes
A vast assortment of elaborate but rigorously hand-made costumes gave the crowd of photographers who flocked to the scene endless moments to capture. Enchanted wonders, from fins to feathers, floral headdresses and shells, jewels, sequins and glitter to bring all kinds of sea creatures to life.
Many participants chose to dress up as "nightmare" mermaids in response to Disney's Little Mermaid, many Ariel and Ursula the evil sea witch. The character of Captain Hook followed by the faithful crocodile stands out in the midst of a group of people in costume entirely dedicated to Disney characters.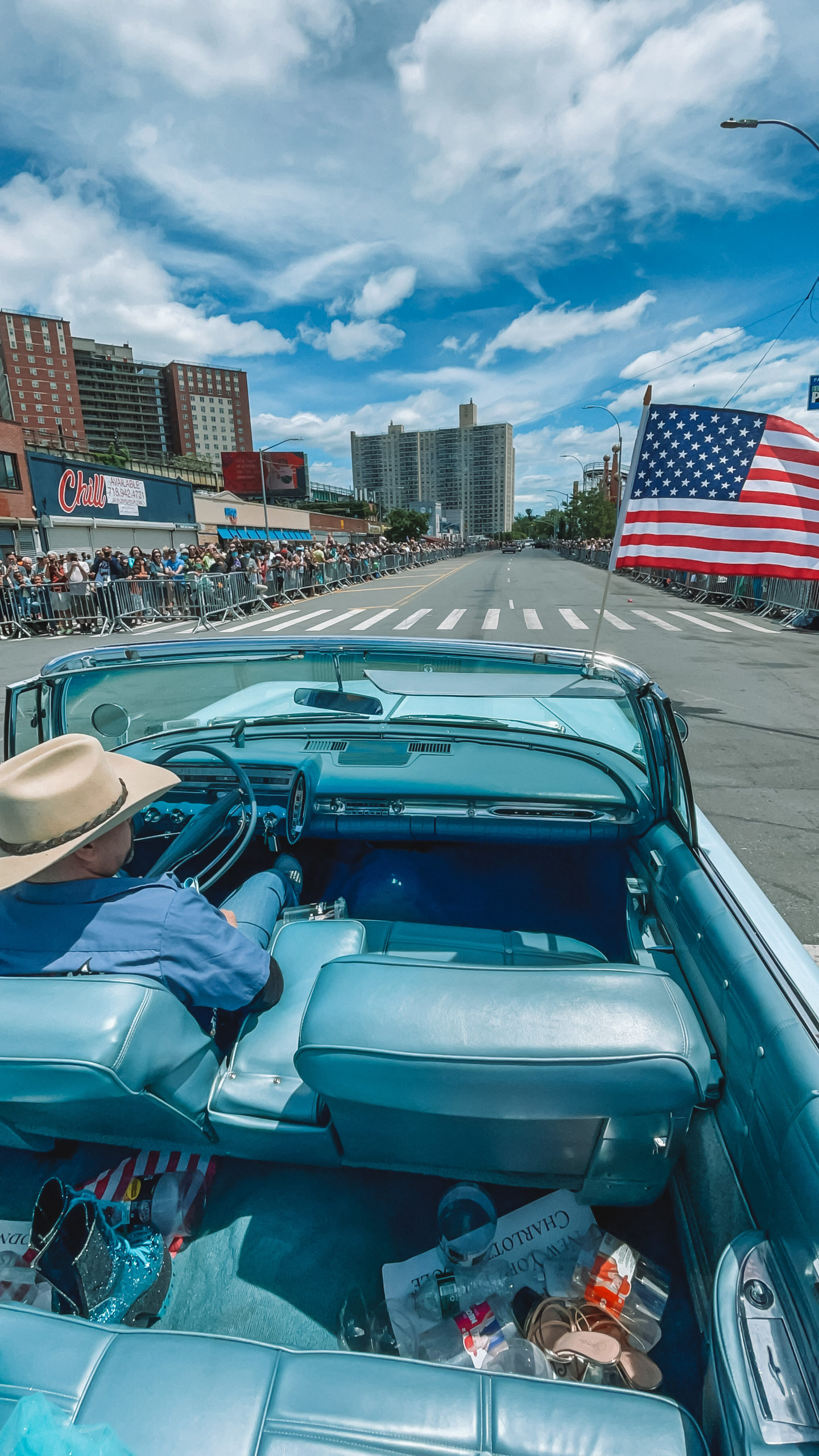 Women adorned with only crystals strategically placed on the body who preferred topless over real costumes. The Mermaid Parade brings hundreds of thousands of people to the entertainment area in a single day, ensuring the success of the summer season. The events in New York in the summer reach their peak of vitality and light-heartedness, a reason that makes this dazzling city more and more unique. After the parade, we moved to the Boardwalk, the Coney Island waterfront to continue the fun day between artistic shots, swimming in the ocean, amusement rides or even sitting down for a drink and a bite while people watching.
NYC digital guides are coming out soon! 🥳
Discover the best restaurants, things to do in each borough, unique experiences, Rooftop and Speakeasy in the city that never sleeps 🥨🚕🌇
DON'T MISS ANY NEWS FROM NEW YORK
WHAT MEDIA AND PARTNERS SAY
Dinamica, solare, positiva ed estremamente professionale. Kiara non è solo una delle migliori guide italiane di New York (conosco benissimo la città, eppure lei riesce sempre a sorprendermi con novità e luoghi insoliti) ma anche un'apprezzata Vlogger e Content Creator per il web. Ho avuto modo di collaborare con lei in più di un'occasione, la sua preparazione e la sua serietà sono fuori discussione. Il suo grande valore aggiunto è costituito dall'entusiasmo e dalla determinazione con cui affronta e porta avanti ogni nuovo progetto. Consigliata a chi desidera scoprire Nyc in maniera più autentica e approfondita ma anche ad enti ed aziende che desiderano sviluppare in maniera efficace i loro progetti sul web.
Simona Sacri
Writer specializzata in USA socia onoraria Visit USA Italy
Poche volte nella vita si incontrano persone come Kiara, solare, determinata, capace, sognatrice e ottima professionista. Dicono che per diventare persone di successo bisogna emulare chi l'ha fatto prima di te, e di certo, Kiara, è una persona che quel suo personale successo l'ha ottenuto!
Cristian Barbarino
Graficoach, Digital Entrepreneur
Kiara, con la sua agenzia New York City 4 All, non vi propone solo dei tour e dei servizi ma una vera e propria esperienza di New York! Vi fa scoprire luoghi e aspetti della città che raramente avrete occasione di conoscere, tanto più se siete in città solo per pochi giorni. Con i suoi vlog vi porta all'interno di eventi, curiosità, mostre, nei locali più nuovi e di tendenza, offrendo informazioni utili e idee non solo per i turisti ma anche per chi a New York ci vive ma non riesce a stare al passo con tutto quello che questa meravigliosa città offre ogni giorno. E la sua collaborazione con brand, locali, ristoranti, palestre, fa entrare Kiara nel tessuto della città ogni giorno di più... e noi con lei!
Chiara Barbo
Giornalista e scrittrice per La Voce di New York