Escursione alle Cascate del Niagara (1 giorno)
Quando: Tutto l'anno
Durata: 1 giorno
Descrizione tour
PARTENZA 4:00 AM RIENTRO 8:00 PM
MINIMO 2 PERSONE
LUOGO DI PARTENZA Marriott Marquis Hotel entrata West 45th Street
ITINERARIO
Cascate del Niagara sia dalla parte canadese che americana con un ottimo pranzo a buffet con vista sulle cascate
Giro nel famoso battello Maids of the Mist (abbigliamento da pioggia a disposizione)
Visita al Parco dell Cascate del Niagara, inclusa Goat Island
Oltre alle Cascate del Niagara vedrete: Horseshoe Falls, American Falls, Bridal Veil Falls, Three Sister Islands, Luna Island, Terrapin Point, Prospect Park, American Observation Tower, Raging Rapids, Old Scow, Niagara Parks, Table Rock, Queen Victoria Park, Floral Show house, Toronto Power House, Dufferin Islands, International Water Control Gates, Water Intakes, e Sir Harry Oakes Garden Theater
Se ci sarà tempo a disposizione prima della partenza del volo si visiterà: The Giant Whirlpool, Whirlpool Aero Car, Niagara Glen, Niagara Escarpment, Hydro-Electric Power Plants, Botanical Gardens e Floral Clock
Prezzi
610$ Ottobre-Giugno
635$ Luglio Agosto Settembre
Soggetto a disponibilità
Avvertenze:
Polizza di cancellazione – questo Tour è soggetto ad una penale del 100% (non rimborsabile!) per tutte le cancellazioni ricevute entro 45 giorni, o meno, dalla partenza del tour.  Non sono previsti rimborsi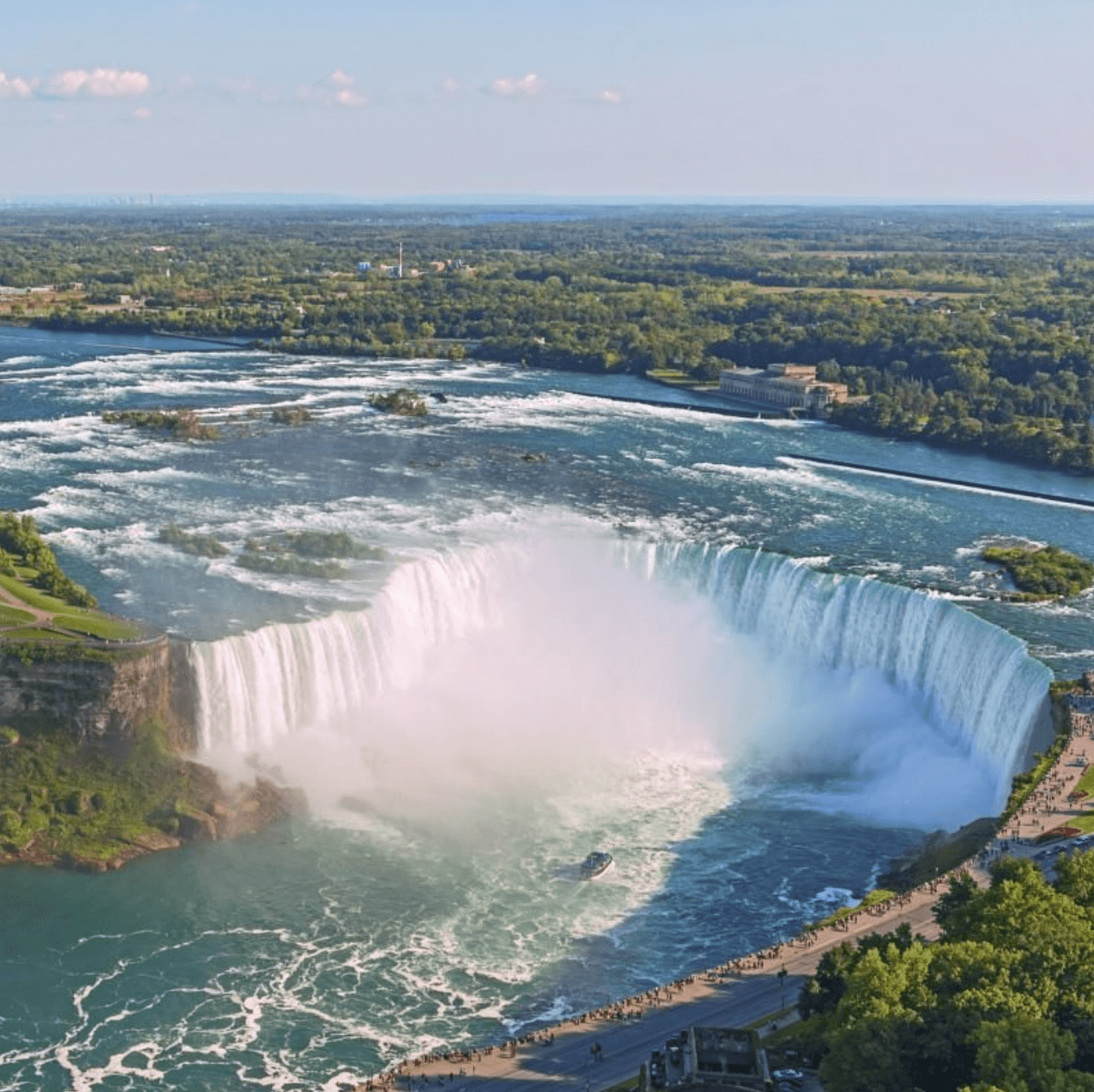 Servizi inclusi
Volo A/R da Long Island a Niagara
Meet and Greet Service all'aeroporto
Tour delle Cascate del Niagara parte Canada e USA
Biglietti entrata, parcheggi, pedaggi strade e ponti, tasse
Transfer a/r da albergo se in Manhattan tra la 20 e la 60 strada
Tour guidato con guida in Italiano della parte americana e canadese delle cascate
Battello Maid of the mist
Pranzo ristorante panoramico con vista sulle cascate.
Servizi non inclusi
Cibo e bevande
Mancia
Transfer per il punto d'incontro