"If I can make it there, I' ll make it anywhere."
(Frank Sinatra)
About Me
Work hard and be nice
Kiara è una ragazza intraprendente e molto attiva con tantissima voglia di imparare e fare. Imprenditrice da 4 anni, donna di mondo ed esploratrice. Ama l'avventura e l'ignoto non la spaventa.
Ama il rapporto con gli altri, si lega molto alle persone umane e con un gran cuore. La sua attività New York City 4 All è la sua vita e la cresce gelosamente come se fosse un figlio.
Negli anni Kiara ha coltivato la sua passione per i tour e per l'ospitalità personalizzando i percorsi per i suoi clienti creando giri ad-hoc nei 5 distretti ed offrendo servizi di accompagnamento negli Stati Uniti.
"Non vi aspettate la classica guida con ombrellino o bandierina, per quelle cercare altrove!"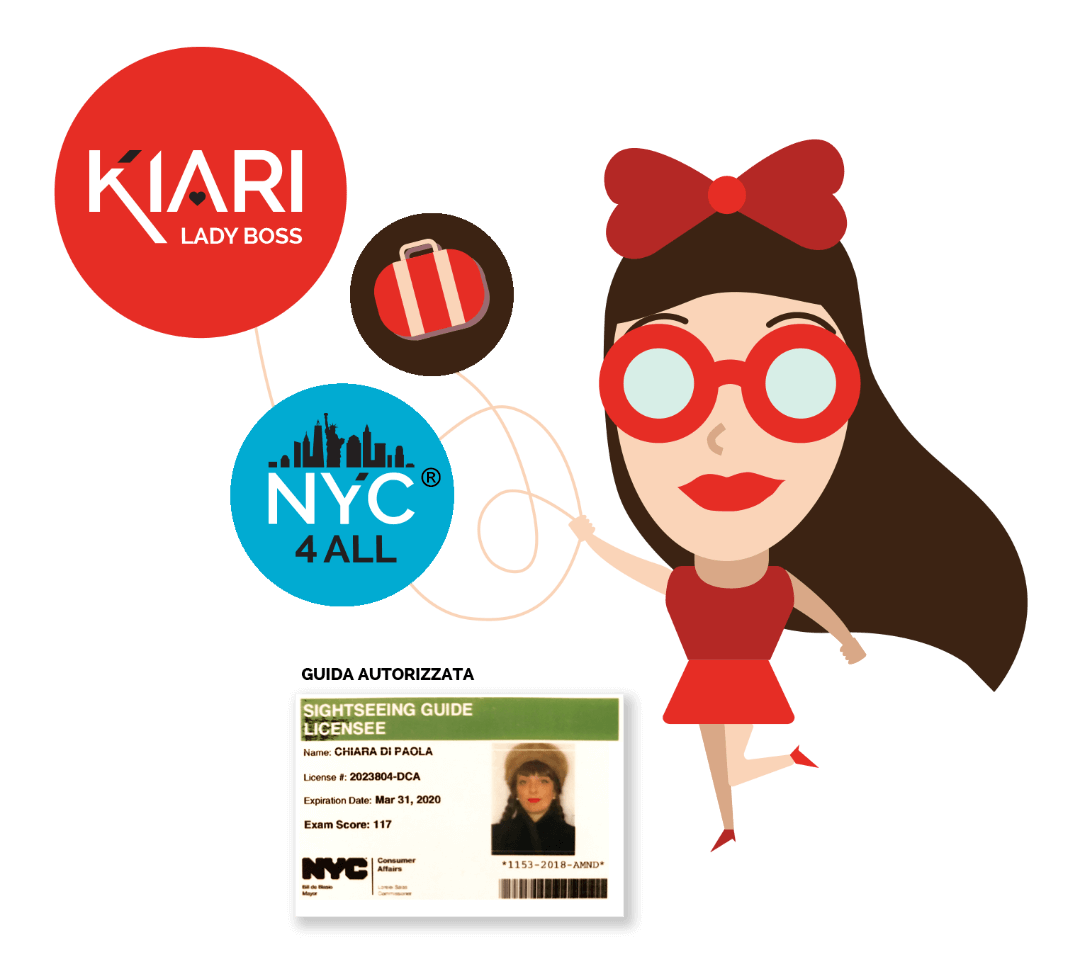 Partners
Kiara è stata citata in diversi articoli di famosi blogger italiani e giornali e collabora con famosi brands.
Dinamica, solare, positiva ed estremamente professionale. Kiara non è solo una delle migliori guide italiane di New York (conosco benissimo la città, eppure lei riesce sempre a sorprendermi con novità e luoghi insoliti) ma anche un'apprezzata Vlogger e Content Creator per il web. Ho avuto modo di collaborare con lei in più di un'occasione, la sua preparazione e la sua serietà sono fuori discussione. Il suo grande valore aggiunto è costituito dall'entusiasmo e dalla determinazione con cui affronta e porta avanti ogni nuovo progetto. Consigliata a chi desidera scoprire Nyc in maniera più autentica e approfondita ma anche ad enti ed aziende che desiderano sviluppare in maniera efficace i loro progetti sul web.
Simona Sacri
Blogger specializzata in USA socia onoraria Visit USA Italy
Kiara is one of the most reliable, friendly and accomodating people that I ever met. She helped me to film a memorable guided tour of NYC for my YT channel and she showed me some hidden gems of the city that I didn't know about, even if it is almost three years that I live here in New York.
Camilla Mendini
Aka Carotilla
Kiara, con la sua agenzia New York City 4 All, non vi propone solo dei tour e dei servizi ma una vera e propria esperienza di New York! Vi fa scoprire luoghi e aspetti della città che raramente avrete occasione di conoscere, tanto più se siete in città solo per pochi giorni. Con i suoi vlog vi porta all'interno di eventi, curiosità, mostre, nei locali più nuovi e di tendenza, offrendo informazioni utili e idee non solo per i turisti ma anche per chi a New York ci vive ma non riesce a stare al passo con tutto quello che questa meravigliosa città offre ogni giorno. E la sua collaborazione con brand, locali, ristoranti, palestre, fa entrare Kiara nel tessuto della città ogni giorno di più... e noi con lei!
Chiara Barbo
Giornalista e scrittrice per La Voce di New York
Poche volte nella vita si incontrano persone come Kiara, solare, determinata, capace, sognatrice e ottima professionista. Dicono che per diventare persone di successo bisogna emulare chi l'ha fatto prima di te, e di certo, Kiara, è una persona che quel suo personale successo l'ha ottenuto!
Cristian Barbarino
Graficoach, Digital Entrepreneur