"If I can make it there, I' ll make it anywhere."
(Frank Sinatra)
About Me
Work hard and be nice
Kiara is creative, energetic, and with an entrepreneurial mind driven by a great desire to learn and do. She loves exploring and traveling, she's a woman of the world. As an entrepreneur, now for over 8 years, she loves taking on new challenges and she's not scared of the unknown.
In January 2019, she opened her brand Kiariladyboss and started collaborating with other brands and companies creating unique content.
She loves connecting with others, she gets very attached to humans with a big heart. Her business New York City 4 All is her life and her "baby" that she never stops caring for.
Over the years, Kiara has cultivated her passion for tours and hospitality by customizing trips for her customers, creating unique tours in the 5 boroughs, and offering guided services around the United States.
"Do not expect the classic tour guide with an umbrella or a flag … for those look elsewhere!"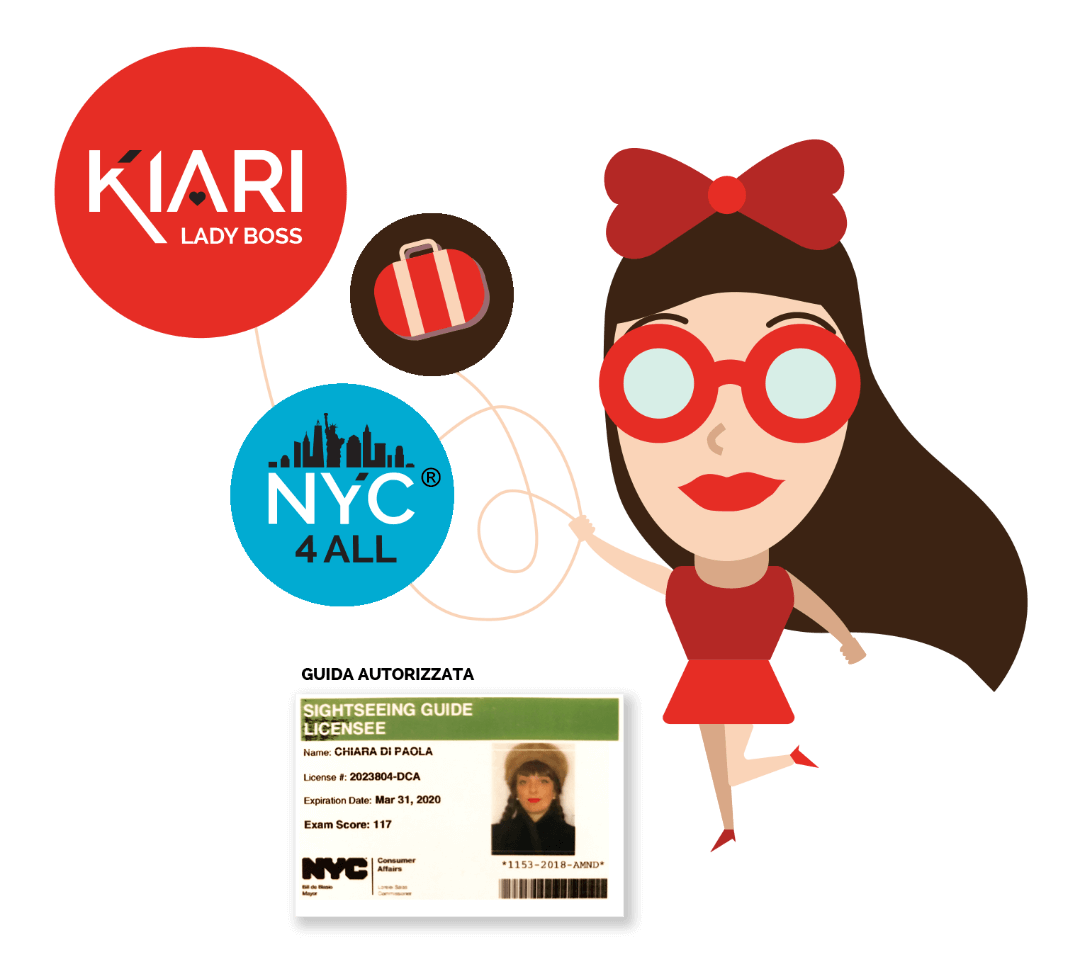 Timeline

January 2023

May 2021

April 2021

February 2019

January 2015

January 2014

January 2012
Partners
Kiara has been mentioned in several articles by famous Italian bloggers and newspapers and she collaborates with famous brands.
Dinamica, solare, positiva ed estremamente professionale. Kiara non è solo una delle migliori guide italiane di New York (conosco benissimo la città, eppure lei riesce sempre a sorprendermi con novità e luoghi insoliti) ma anche un'apprezzata Vlogger e Content Creator per il web. Ho avuto modo di collaborare con lei in più di un'occasione, la sua preparazione e la sua serietà sono fuori discussione. Il suo grande valore aggiunto è costituito dall'entusiasmo e dalla determinazione con cui affronta e porta avanti ogni nuovo progetto. Consigliata a chi desidera scoprire Nyc in maniera più autentica e approfondita ma anche ad enti ed aziende che desiderano sviluppare in maniera efficace i loro progetti sul web.
Simona Sacri
Blogger specializzata in USA socia onoraria Visit USA Italy
Kiara is one of the most reliable, friendly and accomodating people that I ever met. She helped me to film a memorable guided tour of NYC for my YT channel and she showed me some hidden gems of the city that I didn't know about, even if it is almost three years that I live here in New York.
Camilla Mendini
Aka Carotilla
Kiara, con la sua agenzia New York City 4 All, non vi propone solo dei tour e dei servizi ma una vera e propria esperienza di New York! Vi fa scoprire luoghi e aspetti della città che raramente avrete occasione di conoscere, tanto più se siete in città solo per pochi giorni. Con i suoi vlog vi porta all'interno di eventi, curiosità, mostre, nei locali più nuovi e di tendenza, offrendo informazioni utili e idee non solo per i turisti ma anche per chi a New York ci vive ma non riesce a stare al passo con tutto quello che questa meravigliosa città offre ogni giorno. E la sua collaborazione con brand, locali, ristoranti, palestre, fa entrare Kiara nel tessuto della città ogni giorno di più... e noi con lei!
Chiara Barbo
Giornalista e scrittrice per La Voce di New York
Poche volte nella vita si incontrano persone come Kiara, solare, determinata, capace, sognatrice e ottima professionista. Dicono che per diventare persone di successo bisogna emulare chi l'ha fatto prima di te, e di certo, Kiara, è una persona che quel suo personale successo l'ha ottenuto!
Cristian Barbarino
Graficoach, Digital Entrepreneur