Niagara Falls Excursion (1 day)
When: Year-round
Duration: 1 day
Tour description
DEPARTURE: 4:00 AM | RETURN: 8:00 PM
MINIMUM 2 PEOPLE
DEPARTURE POINT:
Marriott Marquis Hotel entrance West 45th Street
ITINERARY
1. See Niagara Falls from both the Canadian and the American side with a great buffet lunch overlooking the falls
2. Enjoy a ride on the famous Maid of the Mist Cruise (poncho available)
3. Visit Niagara Falls State Park including Goat Island
4. In addition to Niagara Falls, you will see: Horseshoe Falls, American Falls, Bridal Veil Falls, Three Sister Islands, Luna Island, Terrapin Point, Prospect Park, American Observation Tower, Raging Rapids, Old Scow, Niagara Parks, Table Rock, Queen Victoria Park, Floral Show House, Toronto Power House, Dufferin Islands, International Water Control Gates, Water Intakes, and Sir Harry Oakes Garden Theater
5. If there is time available before the returning flight, we will visit The Giant Whirlpool, Whirlpool Aero Car, Niagara Glen, Niagara Escarpment, Hydro-Electric Power Plants, Botanical Gardens, and Floral Clock.
Prices
$610 – October-June
$635 – July, August, September
Subject to availability
Please note:
Cancellation policy – this Tour is subject to a 100% (non-refundable!) cancellation policy for all cancellations received within 45 days or less from the tour date. There are no refunds.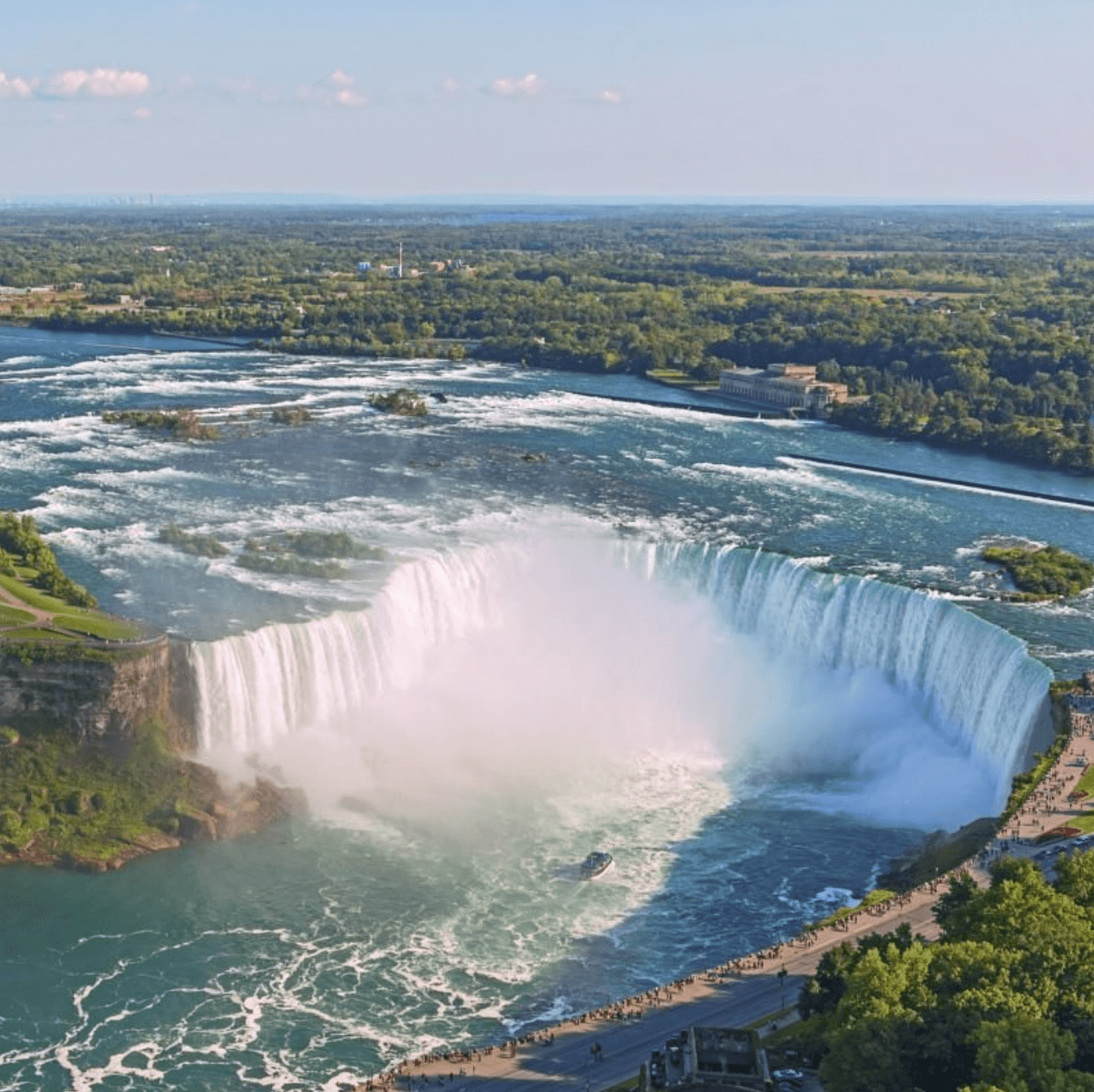 Services included
Round-trip from Long Island (NY) to Niagara Falls
Meet and Greet Service at the airport
Niagara Falls tour, Canadian & US sides
Entrance tickets, parking, road and bridge tolls, taxes
Round-trip transfer from the hotel (if located in Manhattan between 20th and 60th Street.)
Guided tour with an Italian guide of the American and Canadian side of the falls
Maid of the mist boat cruise
Panoramic restaurant lunch overlooking the falls.
Services not included
Food and beverages
Tips/Gratuity
Transfer to the meeting point