4th of July Cruise & Fireworks
When: 4th of July
Duration: 5 hours
Tour description
Celebrate July 4th with the Circle Line Cruise! The Standard or Premium Cruise is the informal evening cruise that takes you behind the Lady Liberty to admire the sunset followed by the legendary New York Fireworks Show.
The skyline and attractions seen from one of the historic Circle Line vessels, take a seat on the bench-style seats and enjoy the show from the observation deck … along with a buffet accompanied by wine, beer, and soda (included in the ticket.)
Possibility to purchase the Premium Package to have beer, wine & alcoholic beverages included as Open Bar to complement the Buffet Dinner. Music with DJ onboard.
Depart from Pier 83 to navigate the Hudson River until you reach the Statue of Liberty. Photo and video opportunities at sunset. Navigation will continue until you reach the Fireworks viewing area near the Brooklyn Bridge. Have fun!
Location: Pier 83, New York (Circle Line)
Duration: Boarding: 17:15 – Navigation 18:00 / 23:00
Boat: Circle Line
Please note:
Cancellations: All sales are final and non-refundable.
* Timetable and boat may vary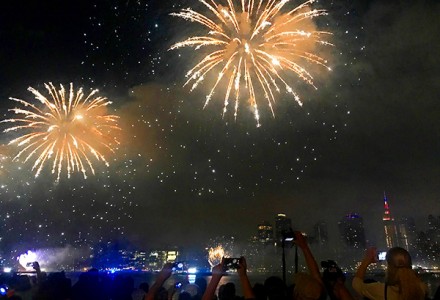 Services included
Standard Cruise ($ 240.00 p.p.) included in the ticket: the buffet, beer & wine
Premium Cruise ($ 299.00 p.p.) included in the ticket: the buffet, beer, premium and spirits
Open Bar available onboard (21+ years with ID) if not purchased with the Premium Package
The Macy's Fireworks from East River
Music with DJ
Unassigned seats
Unassigned seats